Carley
Receptionist / Registered Dental Assistant
I enjoy welcoming new patients and catching up with those we've been seeing for a while. We have amazing doctors, and my teammates are some of the best people. Everyone is supportive and friendly, and genuinely cares about our patients as people. I started working in the dental field in 2010 as an assistant, and joined our team in 2012.
Working at the front desk, I greet and check in patients, and update their records. I also process insurance and payments, answer the phones, and schedule visits.
Outside of work, I like being with my kids.We enjoy hiking, camping, and taking fun day trips, fishing and playing board games.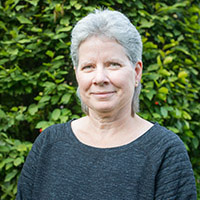 Karen
Registered Dental Assistant
I look forward to coming to our work. This is my second home, and our doctors, team members, and patients feel like part of my extended family! After starting in the field in 1985, I joined Airway Heights Dental Center in 2009 and immediately knew I was in the right place. Everyone here is kind and gentle, and makes sure each patient is provided with excellent care.
My days are spent in the clinic, where I set up the operatories, prepare patients for their procedure, and explain what will happen. I stay at their side, assist the doctor throughout the process, and support our patient and make sure that everyone's relaxed and comfy.
My personal life revolves around my husband Russell, two children Kristen and Nicole, and horses, reading, and art.
Josh
Registered Dental Hygienist
To be a hygienist is more than a "dental janitor" or "tooth fairy". We all have heard a multitude of stereotypes and some are so true that you can't help but laugh. So as a hygienist, I confidently agree to disagree, but with a smile. Each patient is unique which means there is no cookie cutter patient treatment plan that fits all. With that said, staying up to date with every advancing technology and modern techniques is important for optimal patient care.
Choosing a dental office can be an endeavor and looking for the right dental home is an investment that requires trust earned over time. Building rapport with each patient is more than a conversation but an understanding of them as a whole. This allows us as a dental team to hone in on each patient collectively and not as a case subject. I personally believe that treatment performed should be nothing less than treatment expected to recieve. With this in mind, I aim to make each patient comfortable, motivated and knowledgeable to their specific dental goals.

LeeAnna
Certified and Registered Dental Assistant
I enjoy working with our knowledgeable, fun, and caring staff, along with our wonderful doctors, as we provide optimal care. We have a compassionate environment and are devoted to patient comfort and wellbeing. My experience in the field started in 2002 and I joined our team in 2007. This is, simply put, the best practice!
I welcome and prepare patients for treatment, take X-rays, and also take impressions to make temporary crowns. I assist the doctors and other team members, polish teeth, handle infection control and sterilization processes, and am the safety officer.
I grew up in Whitman County and enjoy spending my free time with my husband and three girls.

Joan
Financial Coordinator / Registered Dental Assistant
I enjoy talking with and getting to know patients and their families. Everyone has stories to share, and I am always happy to hear their latest news and what's happening in their world. I started here back in 1978 as a dental assistant, and have loved every day. We have wonderful doctors, a compassionate team, and a friendly environment.
Working with patients as the treatment coordinator, I walk them through their treatment plan. Together we discuss options, their expectations and concerns, and how everything works. Once we've agreed on an approach, I schedule everything. I also handle all of our office accounting processes.
My time off is spent volunteering with my church, experimenting in the kitchen, quilting, gardening, and meeting with my book club. My husband Doug and I love to travel, and photography is a shared hobby. Our son and his wife, who live in Pullman, are our constant joys, and we treasure time with them.